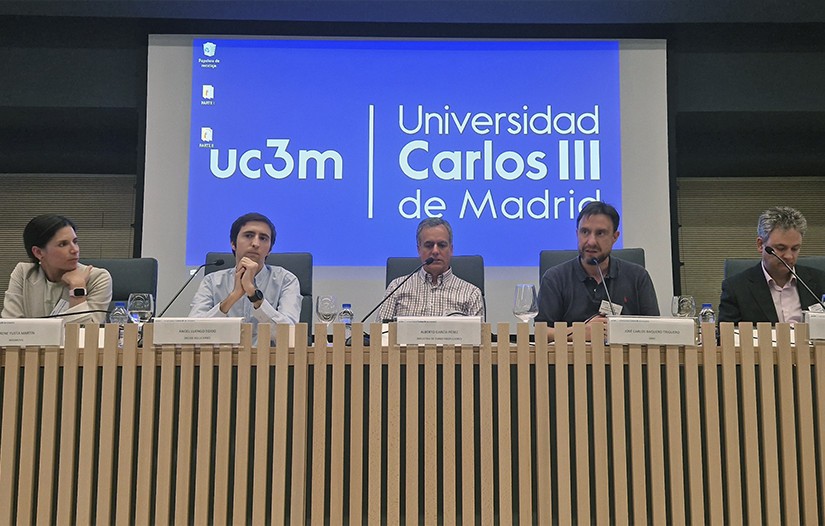 The 1st Artificial Intelligence Applications conference held by Universidad Carlos III de Madrid (UC3M) was attended by students and faculty from the Master's Degree in Applied Artificial Intelligence, as well as fellow members of the UC3M and other institutions and organizations. During the conference, leading representatives of Spanish technology companies shared their varying points of view, painting a broad picture of the current AI landscape. José Carlos Baquero, who heads up GMV's Artificial Intelligence and Big Data division, spoke during the AI Applications session, which also featured participation by experts from Decide Soluciones, Industria de Turbo Propulsores, MÁSMÓVIL, and Vodafone.
This first lineup of speakers discussed a selection of AI applications presently being used in areas such as industry, aerospace, telecommunications, healthcare, education, governance, tourism, digital twins, and smart cities. The second group then focused on AI trends and impacts from a business perspective.
The speakers presented a number of current applications, including chatbots, intelligent assistants, and predictive, recommendation, and automation systems. Emphasis was placed on the prominence of recent generative AI tools, such as ChatGPT, with all speakers agreeing on the exponential growth of opportunities and new applications emerging within the last year. In addition, they discussed certain topics that came up, including the impact of AI on jobs, binarization in the development of large foundation models within the reach of few companies, and difficulties in accessing certain private data.
Sector
Not show on Home
Inactiu