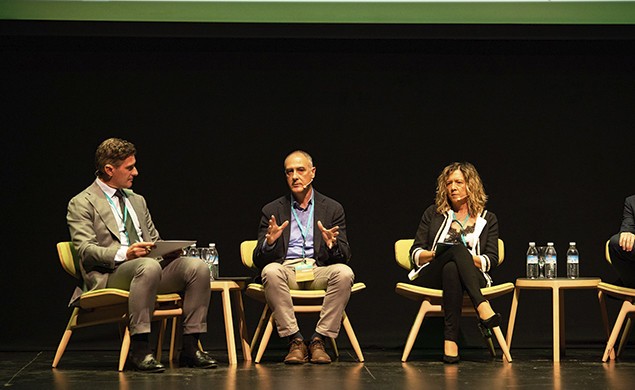 Taking place in El Ejido, Almería, the 5th Datagri Forum served as an opportunity to explore the main digital transformation trends in agriculture, as well as the success stories that are speeding up this process across the value chain. Referring to the event's location, the Spanish Minister of Agriculture, Fisheries and Food, Luis Planas, said that he was at the heart of intensive agriculture in Europe, the latest harvest season bringing in 3.8 million tons of produce valued at €4 billion, a figure that rises to €5.5 billion if Almeria's entire agricultural ecosystem is taken into account.
The main stage addressed issues relating to pre-harvest; fertigation and handling; digital harvesting; post-harvest and industry; and marketing, digitalization, and consumers. On these points, Miguel Hormigo Ruiz, Industry Sector Manager at GMV, stressed the need to improve productivity and pointed to the problem of talent management to strengthen the sector.
In his speech he gave a brief account of GMV's experience in agri-food and underlined the importance of cybersecurity when digitalizing this strategic sector of the Spanish economy. He also cited AgrarIA as an example project involving 24 entities, including large companies, SMEs, and research centers, all with the common interest of boosting the productivity of the Spanish agri-food sector by bringing artificial intelligence into the agricultural value chain.
The Datagri Forum is organized by Hispatec, Córdoba's School of Agronomic and Forestry Engineering (ESTIAM), Cooperativas Agroalimentarias de España and COAG, an agricultural organization. The end result is a diverse coordination group with strong links to the sector, which goes to show just how well the various concerns and sensitivities in the agri-food sector will be represented going forward.
Sector
Not show on Home
Inactiu