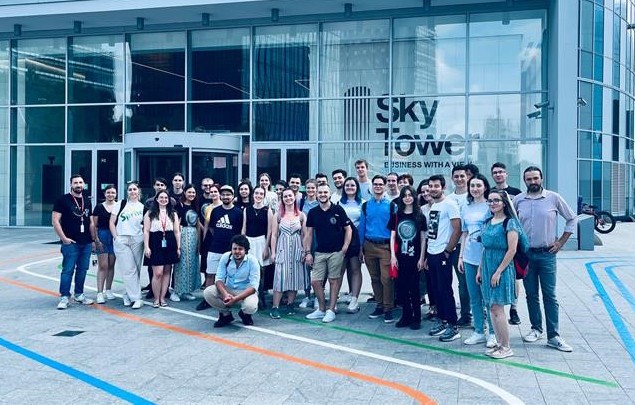 GMV welcomed a group of students from the Summer School Program students of the ROSPIN (Romanian Space Initiative) Academy on August 30th at its facilities in Bucharest, Romania.
During the visit, the GMV team accompanied the students and showed them the company's technology solutions for the space projects that GMV is working on in Romania. They were taken on a tour of the Avionics Laboratory, where they were shown some of the hardware under development, such as HERA Image Processing Unit, SBSS-GNSS camera or the Space Rider SCOE (Special Check Out Equipment). The students have been captivated to learn how GMV is developing and testing the GNC system of HERA and JUVENTAS. The company presentation tour also took the students through an introduction to the state-of-the-art projects related to Autonomous Collision Avoidance, resilient PNT technologies, Optical Data Processing Tools and Electric Propulsion Orbit Raising optimization tools.
The visit is part of a study program in which GMV has also participated giving presentations, together with other companies from the space industry. As part of this program, students had to solve a practical case proposed and evaluated by the participating companies.
ROSPIN is a non-profit organization that works to promote the Romanian space ecosystem through a variety of activities and events, such as educational programs, projects and technical workshops aimed primary, secondary, and university-level students.
Sector
Not show on Home
Actiu