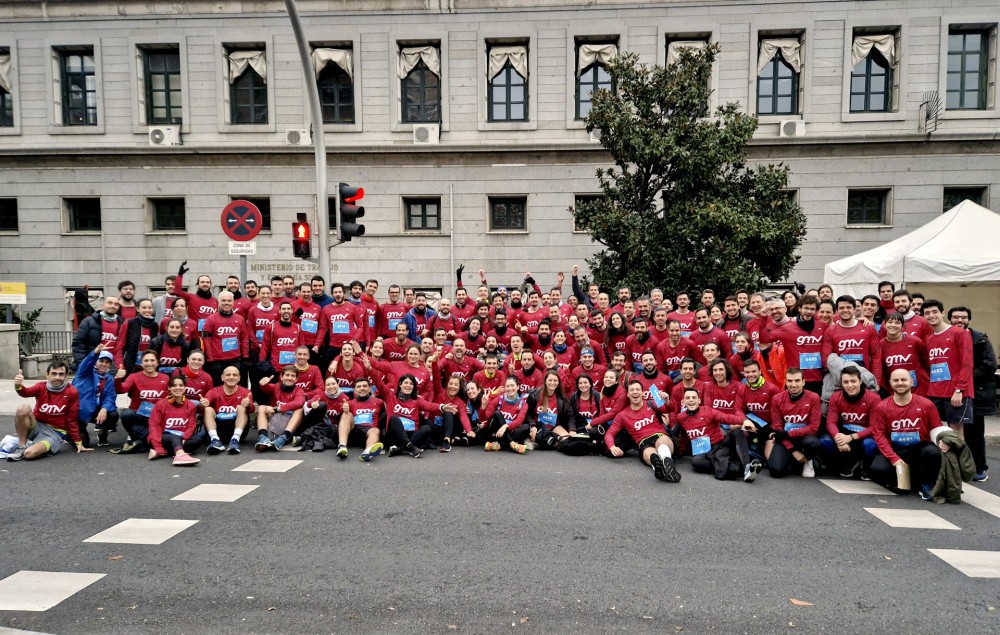 As one result of the COVID‑19 pandemic, corporate wellbeing programs have now become a fundamental aspect of human resources policies. However, in 2019, the technology firm GMV had already decided to create its Wellbeing Program as a way to formalize the various wellbeing actions it had implemented, as part of its clear commitment to its personnel. The aim of that program has always been to improve the lives of the professionals working at the company, by offering them assistance with four fundamental aspects of their personal wellbeing: physical, emotional, social, and financial.
GMV's Wellbeing Program has now had an impact that includes both qualitative and quantitative results. For example, despite the effects of COVID‑19 and an increasing number of employees at the company, data provided by the insurance company Adeslas shows that GMV has an insurance claim rate that is seven points below the average reported for its industry, with a decrease of five points in that index between 2019 and 2023. In addition, the annual report issued by Spanish insurance entity FREMAP places GMV as 40% below the average values for its industry in relation to indexes measuring temporary disability claims. Figures like these demonstrate the positive effects that the company's talent management programs and policies are having, including its Wellbeing Program.
GMV's Wellbeing Program includes actions designed to ensure that the more than 3,000 professionals working for the company can benefit from a safe and healthy work environment, in all 12 countries where GMV operates. This is a basic necessity that the World Health Organization has been emphasizing in recent years.
In addition, an increasing number of the company's employees are taking a proactive approach to their own wellbeing, by participating in the activities the company offers, and also by proposing complementary initiatives. 
Key aspects of a healthy workplace: emotional, physical, social, and financial wellbeing
GMV's Wellbeing Program is based on annual planning that implements actions adapted for each country, which are designed to have an effect on each of these four basic aspects of wellbeing. It also offers a catalog of tools and resources, which encourage healthy relationships within the company and the overall wellbeing of everyone who works there.
GMV's actions focused on emotional wellbeing are based on encouraging practices that will lead to a positive attitude, enthusiasm, intelligent optimism, and good mental health. The program also includes a wide range of actions and resources designed to improve physical wellbeing, such as by encouraging healthy eating habits.
In relation to social wellbeing, GMV has launched actions designed to strengthen interprofessional relationships at the company, foster a sense of belonging, and encourage proper care for the workplace. Finally, with regard to financial wellbeing, GMV offers educational opportunities to increase financial knowledge, promotes responsible financial planning, and provides resources that encourage saving, all based on the understanding that having well-organized finances can have direct repercussions on personal wellbeing.
In order to comply with its objectives on wellbeing in the workplace, GMV has also developed an online community at its corporate digital platform, where employees have access to a wide range of resources. They can also use this platform as a way to interact with each other, and to sign up for and participate in the various actions that have been launched.
At GMV, flexibility is part of our DNA
GMV has implemented a flexible workplace model, which has not only been kept in place after the pandemic, but strengthened as well: our employees can now work remotely for up to 60% of their working week, and each year they are also able to work remotely for eight full weeks from any location. In addition, GMV has other relevant policies and programs such as its "BE YOU" diversity and inclusion program, which is based on guaranteeing equal treatment for everyone, regardless of their age, cultural background, gender, sexual orientation, or disability, as a way of eliminating any discriminatory conduct within the organization.
Sector
Not show on Home
Actiu