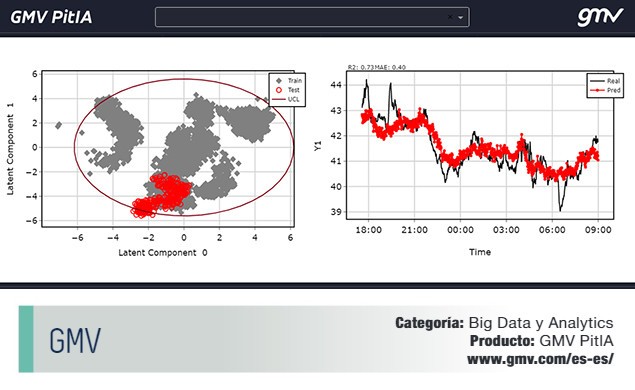 The 14th Comunicaciones Hoy Awards ceremony brought together more than one hundred professionals from the IT sector to hear the jury's decision on the best tech projects, products, and solutions, chosen from among the more than one hundred entries submitted in this year's event.
In the Big Data & Analytics class, the operational and predictive maintenance solution, GMV PitIA, was a finalist together with the Cloudera Data Platform and Netskope Advanced Analytics (the winner).
At GMV, we developed the PitIA solution for predictive maintenance and early detection of anomalies in sectors like energy, chemicals, and industry. In this setting, this solution enables us to model any continuous industrial process broken down into its component variables, learning its normal operation and detecting any deviation from it in real time.
This solution can be applied to any industry based on continuous, discontinuous,or batch processes, focused on improving the safety of people and equipment, increasing the quality of the product obtained and reducing costs by improving the operation, without overlooking its contribution to designing new processes and products.
Sector
Not show on Home
Inactiu