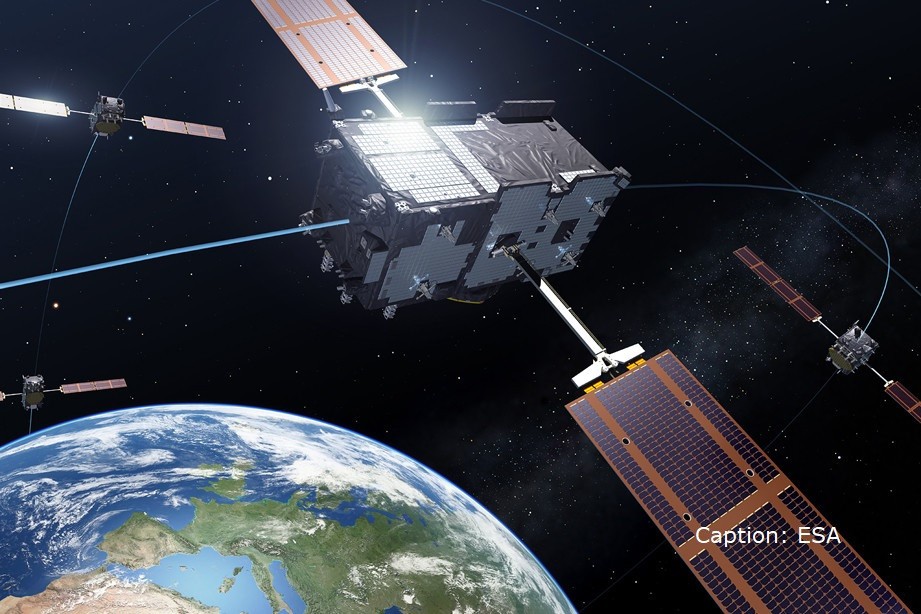 Much has been written about the Galileo program, and there is a ton of information available, so I've opted to tell you my personal story about how the program came to be. I consider myself very fortunate to have experienced the program's birth and development, and I would like to share with you all my dream for this project.
My first forays into the world of satellite navigation happened toward the end of the 80s. At the time I was working with Pedro Duque at the European Space Operations Centre (ESOC). Our task was to research and develop techniques for precise orbit determination. It was a fascinating period of time, during which the concept of precise orbit determination was completely revolutionized. We went from a precision of meters to just a few centimeters in less than five years. Space missions such as LAGEOS, Starlette, ERS-1, TOPEX/Poseidon, SeaSat, and GPS, among others, were critical in achieving this massive leap.
In the early 90s, we started seeing the potential of GPS, not just for geodesic applications,&nbsp but also for determining the precise orbits of satellites in low orbit. New missions from around that time, such as EnviSat, envisioned exactly this type of use-case. GPS is a military system, and back then there was an artificial signal degradation that prevented positioning with sub-decameter accuracy. This made it so GPS was not viable for geodesic applications or for precise orbit determination. This degradation affected the navigation signal, in essence GPS satellites' orbits and clocks.
The 'International GNSS Service (IGS)' came about so that GPS could be used for geodesic applications. The IGS was composed of many different research/geodesic centers around the world, one of which was ESOC. Our objective was to very precisely calculate GPS satellites' orbits and clocks and make that data available to the scientific community, so we could show that artificial degradation who was boss. In the beginning, the new orbits and clocks were available with a delay of several days; later they would be available in real time. This was truly revolutionary and extended the use of GPS to scientific applications instead of just military applications. It was an incredible milestone to be able to position a point on the Earth's surface with millimeter precision and one that changed the way we thought about future applications of Global Satellite Navigation Systems.
In the mid 90s, we had the GPS system, which was affected by an artificial signal degradation, and we had the GLONASS system (developed in Russia). GLONASS was suffering from the political and economic crisis in Russia and therefore had few satellites and significantly worse performance than GPS. The potential of GPS had already transcended solely military applications, and there started to be a great deal of talk about aeronautical applications. This was how regional augmentation systems came into the picture, with WAAS in the USA leading the way. These systems supplied orbit, clock, and ionospheric corrections to users in a certain region, providing a layer of integrity. This made it possible to develop operational applications that involve risks with human lives.
The monumental potential of satellite navigation would never be realized by relying on a military system with problems of artificial signal degradation, nor by relying on a decaying system like GLONASS. So it was that Europe, through the ESA, launched the programs that were known back then as GNSS-1 and GNSS-2. GNSS-1 was a regional augmentation system, which evolved into what is now the EGNOS program, and GNSS-2 was a more ambitious plan focused on developing a European navigation system, which is now the Galileo program.
In the mid 90s, I came back to the GMV facilities in Tres Cantos and was ever so lucky to experience the beginning of both programs in the flesh. I started working on GNSS-1, applying my experience gained from IGS. That time was thrilling. GMV was one of the few companies actually experienced in navigation, and it also had a young, enthusiastic group lead by the brilliant Joaquín Cosmen. A team that faced the challenge of developing critical operational systems that had never been developed before at GMV. They also faced innumerable technical and programmatic problems, and—why not say it like it is—political problems as well.
My experience on GNSS-1 was a short one; I soon moved on to GNSS-2. At first I was alone until another person joined me. There were only two of us for years; I remember the usual joke that is was called GNSS-2 because it was just us two. The initial stages of GNSS-2 were frenetic. We were going through the dot-com crash, and satellite manufacturers were having a rough go at it. At that time there were many more companies in the sector than there are now, and they were all making their bid to lead the development of a navigation system since it meant building a large number of satellites. GMV aligned with what was then DASA (now Airbus), wagering opportunity on innovative concepts based on global and regional geostationary satellite constellations. GMV's role revolved around designing the constellations, analyzing performance, and coming up with strategies for determining orbits and clocks. Other groups, such as Alcatel (now Thales) put their money on low-orbit constellations with hundreds of satellites. I remember the palpable tension and aggression between the different groups back then.
The European Commission tried to put things in order by creating a group of experts to figure out what the future of the European Navigation System would be. This group ended without a consensus; each party fiercely defended their interests, although everyone agreed on the need to create a European GNSS in order to reduce dependence on GPS. Finally, towards the end of the 90s, the Commission decided to move forward with a definition for the System using a constellation similar to that of GPS: not low-orbit, not high-orbit, but medium-orbit. Just after the European Commission's announcement, the US Government announced they would no longer artificially degrade the GPS signal, perhaps in an effort to maintain their supremacy in the world of satellite navigation.
From that moment on, many different industrial movements cropped up. Nobody wanted to be left out of the most ambitious space program that Europe had ever embarked on. These movements ended up culminating in the creation of Galileo Industries, the joint venture of all the companies leading the sector. Galileo Sistemas y Servicios was created in Spain, a consortium that brought together the Spanish space industry and of which GMV was a part. &nbspThis consortium was one of the companies that made up Galileo Industries.
It was a complicated yet exciting time. There was such an eagerness to define what the European Navigation System would be like and to do it in the best way possible, but on the other hand, natural competitors were piled together to make it happen. It was very difficult to get Galileo Industries to fit within the ESA and the European Commission, but despite it all, there was much progress made. GMV played an important part, defining the Galileo constellation, analyzing its potential capabilities, and defining how exactly to precisely calculate its orbits and clock combinations. I remember at that time how the leading clock experts in Europe watched incredulously as a group of enthusiastic up-and-comers asserted that they were capable of synchronizing clocks at precisions less than a nanosecond. How many meetings did we need to convince them…
Defining the Galileo System took several years and stages, with a land segment experimentation platform, which GMV played a crucial role in, and a couple of experimental satellites. During this period of time, it was speculated that Galileo could be accomplished by way of a public-private financing structure, which failed after considerable industrial and institutional deterioration. The time period was also characterized by the tensions between different stakeholders, from industry, the ESA, and the European Commission. These tensions would prove the end of Galileo Industries. Keeping in mind that European industry made a strong comeback in this time period, the fact that Galileo Industries was no more did not pose a serious threat to the program. Finally, in the year 2003, the program was approved, and in 2004 there began to be calls for tenders for Galileo's development phase. The first experimental satellite was launched on 28 December 2005, and the first operational satellite was launched in October 2011. Ten years later, we are witnessing the last launch of what we might term the Galileo's first generation.
Since then, GMV's involvement has only grown, and today GMV is a leader in the development of Navigation Systems, in particular for the Galileo program.
Author: Miguel M. Romay Merino