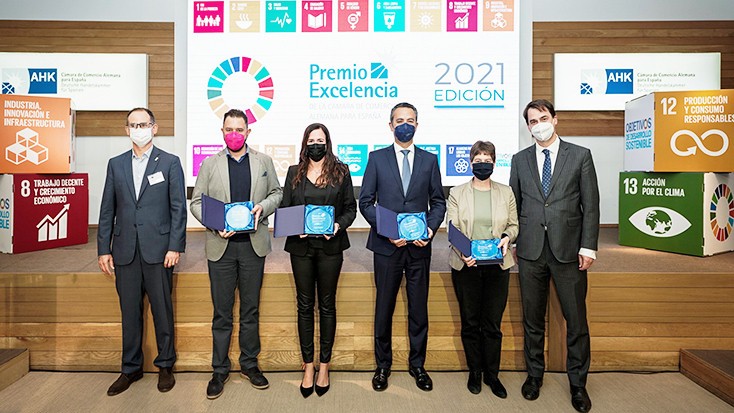 GMV was recognized at the 10th edition of the Excellence Awards by the German Chamber of Commerce in Spain (AHK), at an event held on October 27 at the Cómo Space in Madrid, with the participation of GMV President Mónica Martínez, who accepted the award.
The Minister of the Embassy of the Federal Republic of Germany in Spain, Christoph Wolfrum, and AHK Chairman Javier González presented the awards at a ceremony attended by nearly a hundred people representing Spanish and German businesses and institutions.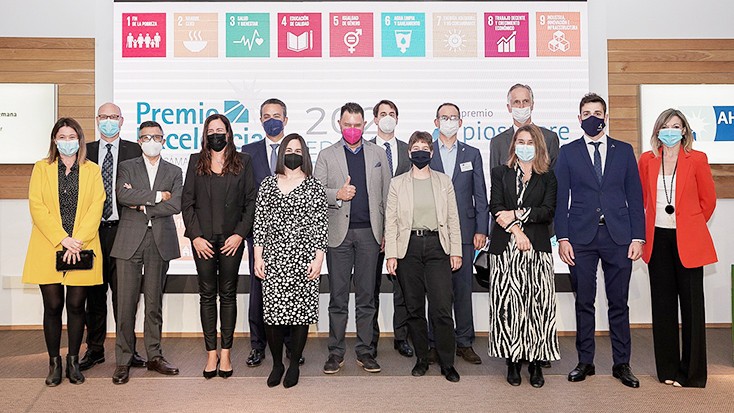 GMV was given the award in the "Responsible Industry, Innovation and Production" category, for its commitment to technological innovation and progress, highlighting the sustainability-related projects MySustainableForest, which has a portfolio of products and services related to responsible forest management, and FirEUrisk, for the evaluation and reduction of risk of forest fires in Europe and adaptation to future fire regimens. As well as the projects Bewats, Plastic-Less Society and Atin-Blueco, focused on monitoring plastic waste in the oceans to reduce their environmental impact.
The AHK organizes this initiative each year to recognize the work of businesses that make a notable contribution to strengthening Spanish-German ties in a variety of areas related to innovation, employment, corporate social responsibility, and professional training. This year's edition was divided into three award categories and focused on the green and circular economy, sustainability and energy efficiency, in line with the chamber's main theme for 2021: "Business and Sustainability. The path to a green, efficient, and circular economy".
The Excellence Award is endowed annually with €5,000, which is given to the social cause of the winner's choice. On this occasion, GMV and the rest of the award winners agreed to give the monetary amount to the charitable organization Mary's Meals, which feeds over two million children each day in countries in Africa with a low level of school attendance, to collaborate with their education.
Find out more about GMV's contribution to the Sustainable Development Goals on our corporate page on LinkedIn.
Sector